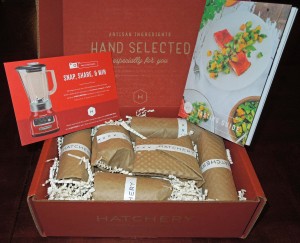 Hatchery Tasting Box is a monthly subscription box that sends you gourmet condiments, sauces, etc.
Cost: $25 per month – free shipping.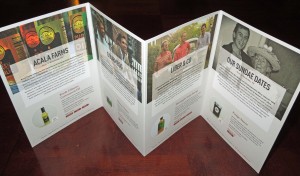 Each box comes with a tasting guide which has information about the company, the product, a recipe, and links to recipes for the other products. I like that you can either just do your own thing with the items sent or have some ideas with their recipes. I purchased a 3 month subscription of this through a Living Social deal.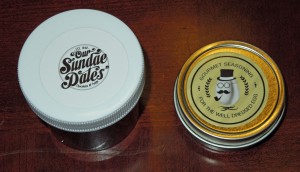 Our Sundae Dates Fudge Sauce
Full size is $13
This suggests spooning it over ice cream or fruit. There's also a recipe for a Grilled S'mores Pizza, which is really tempting to try!
Gourmegg Classy Classic
Full size is $9
It's a seasoning for eggs. The recipe is for an Avocado Egg Salad. My husband doesn't like egg salad, so I may see what else I can do with this.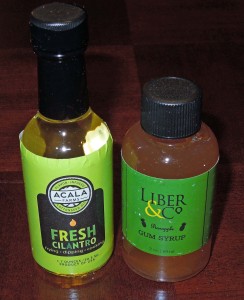 Acala Farms Fresh Cilantro Cottonseed Oil – 1.7 oz
Full size is $11
I'm not a huge fan of cilantro, but my husband is. It suggests putting it in guacamole or over veggies before grilling. I may give that a shot over the recipe, which is an Edamame, Avocado, and Radish Salad.
Liber & Co Pineapple Gum Syrup – 2 oz
Full size is $12
I had no idea what gum syrup is, but it mentions adding it into tequila or rum cocktails or iced tea for a non alcoholic drink. I'll be trying it with all of those options. The recipe is for a Pineapple Sage Daiquiri.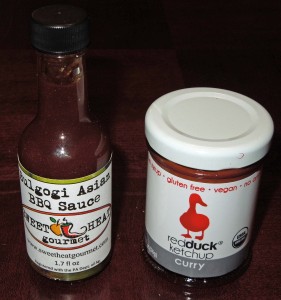 Sweet Heat Gourmet Asian Bulgogi BBQ Sauce – 1.7 oz
Full size is $9
I love BBQ sauce and this one sounds amazing. I'm not a fan of fish, so I won't be trying their recipe for Salmon Bulgogi with Avocado-Mango Salsa, but I will try this on some other meat. It says it's also good for steak, chicken, and pork.
Red Duck Foods Curry Ketchup – 2 oz
Full size is $8
This also sounds amazing and a great twist to standard ketchup. It says it pairs well with sweet potato fries. The recipe is for Indian-Spiced Burgers on Grilled Naan.
Final Thoughts: Overall, I really love this subscription box so far! I really enjoy cooking and my husband and I are trying to eat better and eat at home more often, so he'll love being a taste tester for this.
What did you think of the Hatchery Tasting Box this month? Are there any items you'd like me to do a more in depth review on?