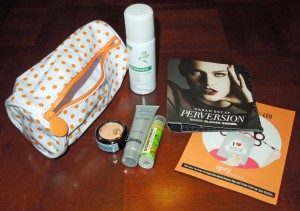 ipsy is a monthly subscription of beauty and makeup items. Each month you receive 4-5 full size or deluxe side products, as well as a makeup bag.
Cost: $10 per month – free shipping.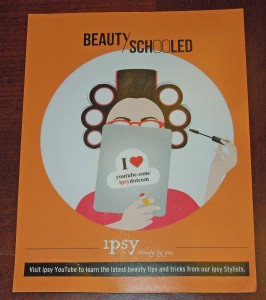 This month was themed Beauty Schooled.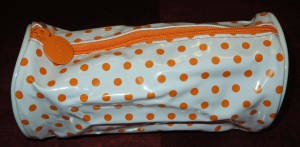 The makeup bag this month has a plastic feel and is white with orange polka dots. It's kind of cute, but still has a plastic smell and is an odd shape for a makeup bag. I may use it to put some of my travel sized products in for my gym bag because it feels like it would clean up easy in case of a spill.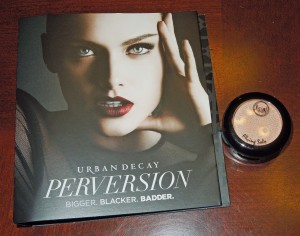 Urban Decay Perversion Mascara – 0.1 oz
Full size is $22
The before and after pictures of this look great and I usually like Urban Decay items.
J. Cat Beauty Flying Solo Eye Shadow in Half Naked – 0.09 oz (Full Size)
Full size is $2.99
This has a nice light wash of color. We'll see how well it holds up after a day of wearing it.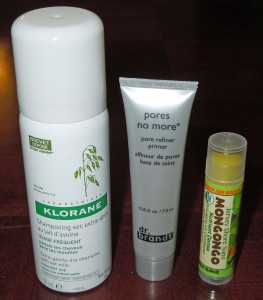 Klorane Extra-Gentle Dry Shampoo with Oat Milk – 1.06 oz
Full size is $19.50
I always hear people raving about dry shampoo and I'm on a quest to find one that I think works with my hair and doesn't have an awful scent. So this will get used.
Dr. Brandt Pores No More – 0.25 fl oz
Full size is $45
This is a mattifying pore refiner primer. I can always use this.
Jersey Shore Sun Mongongo Lip Balm – 0.15 oz (Full Size)
Full size is $5.50
I like that this is all natural, but I'll be giving it away to someone else. I just have so many lip balms already and tend to stick with the same couple that don't end up drying out my lips, so I probably wouldn't get around to using this more than once or twice.
Final Thoughts: This month was kind of a dud for me. I saw what some other people got in their bags and I wish I had received some of that over what I got. The samples were a little small compared to how many full sized products I've received before and I'm not a fan of plain lip balm as a sample.
What did you think of ipsy this month? Are there any items you'd like me to do a more in depth review on?