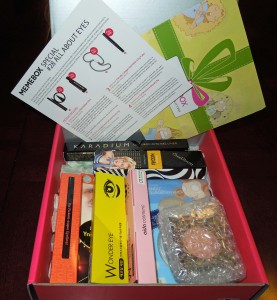 Memebox is a Korean beauty box. Instead of a traditional monthly subscription box, they create individual boxes around different themes and you can pick which ones you would like to purchase.
Cost: Boxes start at $23 plus $7 shipping, but you can purchase different bundle options too.
This Memebox is Special #28 All About Eyes. Each of the boxes comes with a card that tells you about the products. This is really helpful, as the product information on the containers isn't always in English.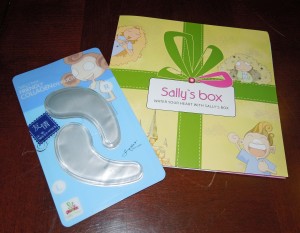 Sally's Box Friendly Collagen Eye Patch – 4.5g x 2 ea (Full Size)
Full size is $2
This  is an eye patch that says it has a collagen formula works to tighten up sagging skin and also soother, cool, and replenish the sensitive under-eye area. I've seen people review patches like this on YouTube and I'm really excited to try it out myself. It also came with a catalog of other masks from this brand.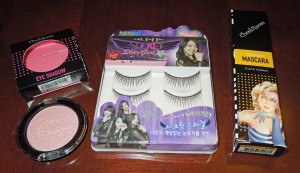 Cheek Room Eye Shadow in 04 Sweet Pink – 5g (Full Size)
Full size is $8
This is a pretty sheer pink color with a pearl type of shimmer. This says that it's highly resistant to sebum, water or sweat and maintains the color all day long.
Secret-Stargirl S-Style 2 set in No.12 Princess Eye – 2 Sets of Lashes (Full Size)
Full size is $7
I've tried applying false lashes for Halloween before and did a terrible job with it. However, I did have them applied for my wedding and they looked great. So I'm willing to give this a try and see if my last failure was because the lashes were super cheap. These look like they will look pretty natural too.
Cheek Room Curl & Volume Mascara – 8g (Full Size)
Full size is $18
This says it is a long-lasting waterproof mascara. It also says it provides curl and volume, and contains lily-extracts that protect lashes to keep them healthy and strong.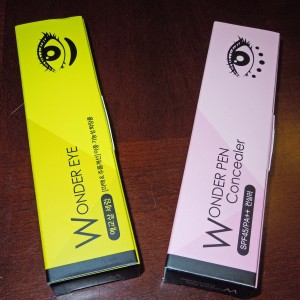 MDaida Wonder Eye Volume Filler – 2.7g (Full Size)
Full size is $41
This is a serum for underneath the eyes that works to brighten and treat fine wrinkles and lines.
MDaida Wonder Pen Concealer SPF45 PA++ – 2.7g (Full Size)
Full size is $34
This is a concealer pen to use on eyes, blemishes and other skin imperfections. You can also use it to highlight dull and darkenend eye contours.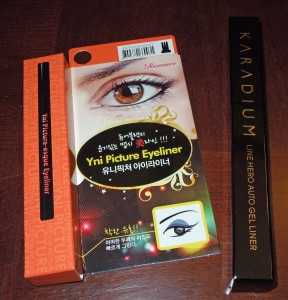 YniPicture-Esque 3 Dots Eyeliner – 0.9ml (Full Size)
Full size is $9
I've used an eyeliner with a similar brush before and liked it. It has a three-end brush to fill in between lashes and says it dries quickly for a lasting finish. It also claims to be strong against water, sebum, and sweat but can be removed with just warm water.
Karadium Line Hero Auto Gel Liner Pencil in 05 Silver White – 2.5g (Full Size)
Full size is $12
This is a really smooth eyeliner in a shimmery white. It glided on really nice. It says that it takes 10 seconds to dry and then is entirely waterproof.
Final Thoughts: I really liked this Memebox, although I was a little nervous about getting a lip box because I don't tend to wear really crazy colors on my lips. I'm more more open to experimenting with eye colors. These were all really nice and wearable colors.
What did you think of the Memebox? Are there any items you'd like me to do a more in depth review on?