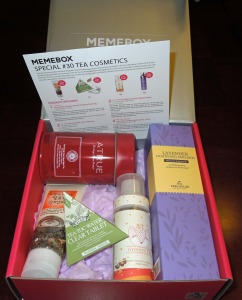 Memebox is a Korean beauty box. Instead of a traditional monthly subscription box, they create individual boxes around different themes and you can pick which ones you would like to purchase.
Cost: Boxes start at $23 plus $7 shipping, but you can purchase different bundle options too.
This Memebox is Special #30 Tea Cosmetics. Each of the boxes comes with a card that tells you about the products. This is really helpful, as the product information on the containers isn't always in English.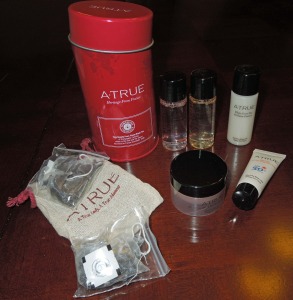 A-True Miniature Set + 2 Black Tea Bags – Includes:
Sweet Song Black Tea One-Step Cleansing Water 20ml (Full Size 300ml is $37)
Vanilla Black Tea Day Relief Body Wash 20ml (Full Size 250ml is $32)
Himalaya Black Tea Watery Gel Cream 15g (Full Size 50g is $49)
White Snow Tea Brilliant Essence 20ml (Full Size 40ml is $55)
Black Tea All Day Long Sun Cream SPF50+PA+++ 10g(Full Size 50g is $36)
This is such a cute pack of items! Everything pictured above all fit in the tin, including two tea bags. The items are smaller than the normal full sized products in Memeboxes, but they're still good sample sizes.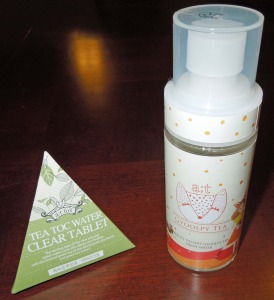 A;T Fox Tea Toc Water Clear Tablet – 4g (Full Size)
Full size is $2
This is also cute packaging. It's a bath tablet that looks like a tea bag. It says it helps detox and soothe your skin.
A;T Fox Gyoolpy Tea Fresh Water – 100ml (Full Size)
Full size is $10
This is a facial mist that moisturizes and brightens the skin. It says that you can also use it instead of a toner and as a makeup fixer before and after makeup application.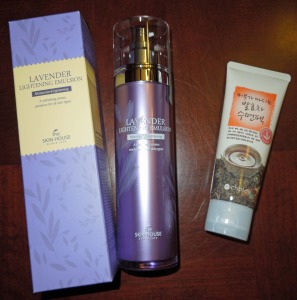 The Skin House Lavender Lightening Emulsion – 120ml (Full Size)
Full size is $40
This has lavender tea complex to smooth, moisturize, and brighten up the skin.
e choice Fermented Tea Skin Drinks Sleeping Pack – 70g (Full Size)
Full size is $2
You put this on your face at night and then rinse off in the morning. It also uses tea extracts to moisturize and sooth skin overnight.
Final Thoughts: I really liked this Memebox! I love tea, and so being able to have a whole box full of products based on tea extracts is so much fun. The packaging of some of the products was so cute too!
What did you think of the Memebox? Are there any items you'd like me to do a more in depth review on?