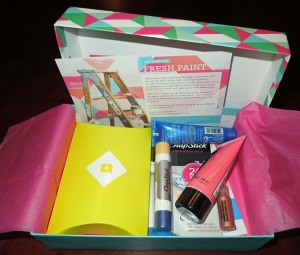 Birchbox is a monthly subscription box of a variety of samples ranging from skincare, haircare, makeup, and non-beauty items. It's usually 4-5 samples per month. They also offer a men's subscription box.
Cost: $10 per month – free shipping.
Birchbox was the first subscription box I signed up for. Some of the months are a little hit or miss, but I've found some interesting new products through them. I also like that I can mark to not receive fragrance samples each month.
The theme for September was Fresh Paint. The new box design for this month is really cute. This month you were again able to pick one of your samples, go with a set box, or let Birchbox pick all of your samples for you. I wasn't as quick to log in to make my selection for this month, so these were all picked by Birchbox. They also had a code for an Anniversary Bonus Box, free with any $50+ purchase with the code: BONUSBOX.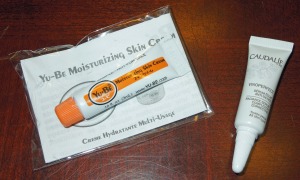 Yu-Be Moisturizing Skin Cream – 0.10 fl oz
Full size is $16
This says it works from everything from rough heels to chapped lips. I actually have a sample of this from an older Birchbox that I haven't gotten around to using yet. So maybe this is a sign to try it out!
Caudalie Vinoperfect Radiance Serum  – 0.06 fl oz
Full size is $79
This is a serum to fade dark spots and even skin tone.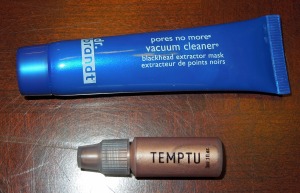 dr. brandt Pores No More Vacuum Cleaner – 0.25 oz
Full size is $45
I'm really looking forward to using this. I like products by this brand and it says it really cleans out your pores.
TEMPTU S/B Highlighter in Champagne Shimmer – 0.1 fl oz
Full size is $27.50
This is a really nice shimmery color. I'm not sure if it's too shimmery to pull off for an every day look as a highlighter, but I'll give it a shot. Otherwise, I'll use this on my eyes.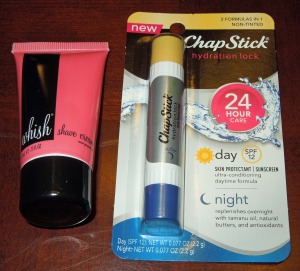 Whish Shave Cream in Acai Grapefruit – 0.75 fl oz
Full size is $20
This is my second item from this brand that I've received in a subscription box. I like the scent of this and it feels moisturizing. We'll see how well it works with shaving.
ChapStick Hydration Lock – 0.077 oz (Full Size)
Full size is $2.99
This was an add in mass-market discovery. It looks interesting – two ChapSticks, one for day and one for night, in one product.
Final Thoughts: There were some real winners in this box, including the highlighter and dr. brandt mask. I'm not crazy about getting ChapSticks in subscription boxes and have so many lip balm products already, but this was an add in and I know someone who will love using this.
What did you think of Birchbox this month? Are there any items you'd like me to do a more in depth review on?