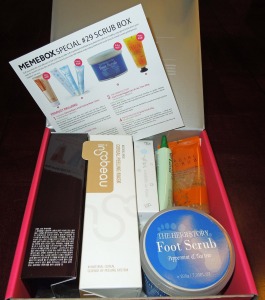 Memebox is a Korean beauty box. Instead of a traditional monthly subscription box, they create individual boxes around different themes and you can pick which ones you would like to purchase.
Cost: Boxes start at $23 plus $7 shipping, but you can purchase different bundle options too.
This Memebox is Special #29 Scrub Box. Each of the boxes comes with a card that tells you about the products. This is really helpful, as the product information on the containers isn't always in English.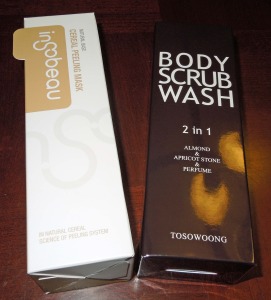 insobeau Natural Base Cereal Peeling Mask – 150ml (Full Size)
Full size is $27
This mask gently peels away excess dead skin cells and skin impurities.
Tosowoong Perfume Body Scrub Wash – 160g (Full Size)
Full size is $19
This body scrub looks really good! It's infused with almond, apricot, walnut, and honey extracts.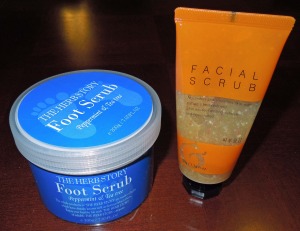 The Herb Factory Foot Scrub Peppermint & Tea Tree – 200g (Full Size)
Full size is $14
I like the idea of pampering myself with a foot scrub, and this one has a nice, refreshing scent.
Pibugonggam G Facial Scrub – 50g (Full Size)
Full size is $13
You can smell the citrus in this facial scrub.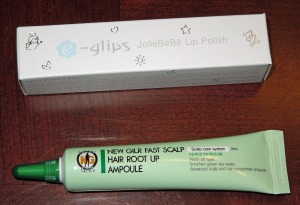 Eglips JoliBeBe Lip Polish – 15ml (Full Size)
Full size is $7
I like lip scrubs and so this seems like it'll be an interesting version. It says it also moisturizes your lips to prevent dehydration during application.
New Girl Fast Scalp Hair Root Up Ampoule – 20ml (Full Size)
Full size is $6
This is a scrub for your scalp. It gets rid of dead skin cells on your scalp. I've used something similar before and really liked how it felt, so I'm looking forward to trying this one.
Final Thoughts: I really liked this Memebox – enjoy using different scrubs and so I'm looking forward to trying all of these out!
What did you think of the Memebox? Are there any items you'd like me to do a more in depth review on?