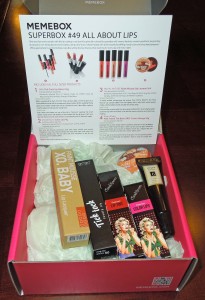 Memebox is a Korean beauty box. Instead of a traditional monthly subscription box, they create individual boxes around different themes and you can pick which ones you would like to purchase.
Cost: Boxes start at $23 plus $7 shipping, but you can purchase different bundle options too.
This Memebox is Superbox #49 All About Lips. Each of the boxes comes with a card that tells you about the products. This is really helpful, as the product information on the containers isn't always in English.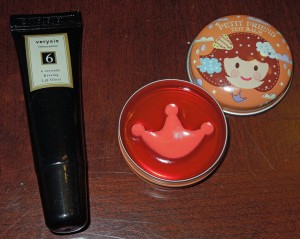 Very Six 6 Seconds Kissing Lip Glass – 10ml (Full Size)
Full size is $17
This says that it's a tint meets a gloss that brings out the best color from your lips. You apply it, wait 6 seconds, and then see a brighter, more colorful glow. I've tried this and it's certainly not a drastic color at all. It feels nice on the lips and goes on clear, so it seems more like a clear gloss to me, but it did change the color of my lips to be a little rosier.
Shara Shara Petit Friend Tint Balm OR01 Crown Orange – 20g (Full Size)
Full size is $8
This balm has really cute packaging. The crown is a pink lip tint and the area around it is a lip balm. It says you can use it individually or together, but it seems like it would be kind of awkward to swipe your finger just in the balm. It feels moisturizing and is a very light color that I don't think shows up on my lips at all. But it smells great, so that's always a perk!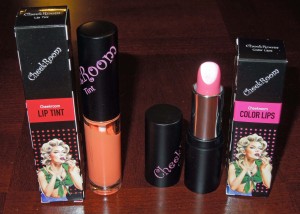 Cheek Room Lip Tint in 02 Orange – 8ml (Full Size)
Full size is $10
This is a nice sheer lip tint. It says orange, but it's not a super orange shade and is a bit more on the coral side. It says it'll stay on your lip for 2-3 hours without needing to reapply it.
Cheek Room Color Lips in 02 Pink – 4g (Full Size)
Full size is $10
The color in the tube looked like a really bright pink, so I was a little nervous, but it doesn't go on as brightly. So it's certainly a more wearable pink for me. The description says it adds vivid coloration to the lip and has a smoothing and hydrating effect.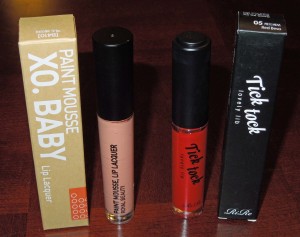 Royal Nature Paint Mousse Lip Lacquer in 03 B410 Xo Baby – 5ml (Full Size)
Full size is $24
I swatched this and it's a pretty pink color and felt nice and not sticky. This says it's a mousse-type lip lacquer that has a matte silky finish and is supposed to last all day long.
RiRe Tick Tock Lip Gloss in 05 Red Beso – 3.5g (Full Size)
Full size is $18
I really like this red! It says the glossy color is supposed to last for a long time. The applicator is strange – I opened it first and thought it was broken because I just saw a stick with no applicator tip. But I read the description and saw that you have to push a button on the top of the lid to have the brush come out and when you close the lid it pushes the brush back in again.
Final Thoughts: I really liked this Memebox, although I was a little nervous about getting a lip box because I don't tend to wear really crazy colors on my lips. I'm more more open to experimenting with eye colors. These were all really nice and wearable colors.
What did you think of the Memebox? Are there any items you'd like me to do a more in depth review on?