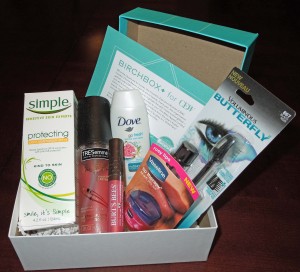 Birchbox is a monthly subscription box of a variety of samples ranging from skincare, haircare, makeup, and non-beauty items. It's usually 4-5 samples per month. They also offer a men's subscription box.
Cost: $18 for this limited edition box – free shipping.
Birchbox was the first subscription box I signed up for. Some of the months are a little hit or miss, but I've found some interesting new products through them. I also like that I can mark to not receive fragrance samples each month.
This is a limited edition box for CEW. Birchbox had this Mass Appeal box and a Prestige Headliners – I bought both of them.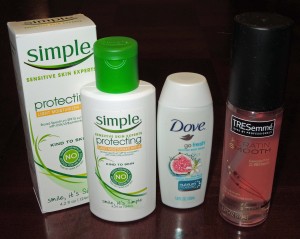 Simple Protecting Light Moisturizer with SPF 15  – 4.2 oz (Full Size)
Full size is $10.99
This says it's good for sensitive skin, which is perfect for me. I like that it has SPF in it too.
Dove Go Fresh Restore Body Wash – 1.8 oz
Full size is $8.99
I like Dove body washes, but don't tend to buy full sized bottles. I mainly get them for traveling or a gym bag. So this will be perfect for that.
TRESemme Keratin Smooth Keratin Infusing Serum – 3.3 oz (Full Size)
Full size is $5.99
This is another brand where I've used their products, but not this exact one. I've liked the other products I've used from this brand, so I'm looking forward to this one too.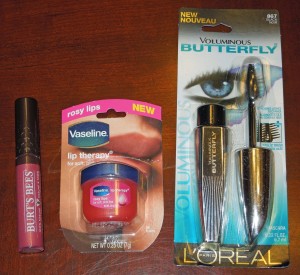 Burt's Bees 100% Natural Lip Gloss in Spring Splendor – 6 ml (Full Size)
Full size is $8.99
I love Burt's Bees products and this is such a pretty color.
Vaseline Lip Therapy Rosy Lips – 0.25 oz (Full Size)
Full size is $2.29
The packaging for this is so cute!
LÓreal Paris Voluminous Butterfly Mascara – 0.22 oz (Full Size)
Full size is $6.89
Mascaras are fun to play around with and the brush on this is really different. I need to finish up some of the ones I have open already before checking this out.
Final Thoughts: This box was pretty interesting, especially because the products in it are so affordable if I find a new favorite.
What did you think of this limited edition Birchbox? Are there any items you'd like me to do a more in depth review on?