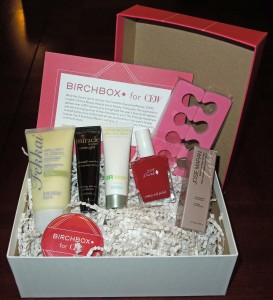 Birchbox is a monthly subscription box of a variety of samples ranging from skincare, haircare, makeup, and non-beauty items. It's usually 4-5 samples per month. They also offer a men's subscription box.
Cost: $18 for this limited edition box – free shipping.
Birchbox was the first subscription box I signed up for. Some of the months are a little hit or miss, but I've found some interesting new products through them. I also like that I can mark to not receive fragrance samples each month.
This is a limited edition box for CEW. Birchbox had this Prestige Headliners box and a Mass Appeal box – I bought both of them.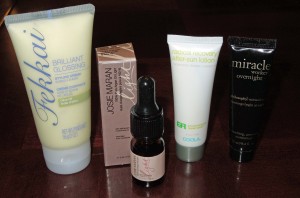 Fekkai Brillant Glossing Creme  – 2 oz
Full size is $19.99
This creme is designed to make your hair shiny and frizz-free. I have curly hair, so that's always useful.
Josie Maran Cosmetics 100% Pure Argan Oil Light – 0.16 oz
Full size is $48
My problem with oils is they usually feel pretty greasy to me. I like that this says it's ultralightweight, so I'll give it a try.
COOLA Environmental Repair Plus Radical Recovery After-Sun Lotion  – 0.5 oz
Full size is $32
This would've been useful earlier in the summer when I did get a little bit of a burn! I'll be saving this to try next summer, just in case.
philosophy Miracle Worker Overnight  – 0.4 oz
Full size is $68
I like philosophy products and have had some samples of a different Miracle Worker item. This is a night time moisturizer.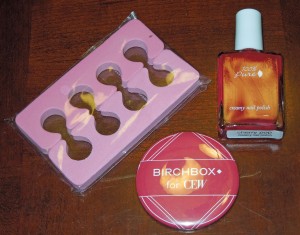 100% Pure Creamy Nail Polish in Cherry Pop – 0.5 oz (Full Size)
Full size is $12
I like the idea of using a nail polish that's 5-free and can't wait to see how well it holds up. It's a really bright red, which will look nice on my toe nails.
Toe Separators
I don't usually use these when painting my toe nails because I don't really like purchasing them, but I'll use these since I already have them.
Pocket Mirror
A mini mirror.
Final Thoughts: I'm a little mixed with this box. I do like the value of the items and will try it all out. The sizes are good to really test out. It's mainly just the timing with some of the items for me, like the bright red nail color and the after-sun lotion, which would've been better earlier in the summer for me.
What did you think of this limited edition Birchbox? Are there any items you'd like me to do a more in depth review on?