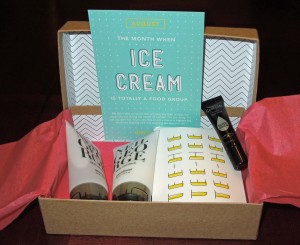 Birchbox is a monthly subscription box of a variety of samples ranging from skincare, haircare, makeup, and non-beauty items. It's usually 4-5 samples per month. They also offer a men's subscription box.
Cost: $10 per month – free shipping.
Birchbox was the first subscription box I signed up for. Some of the months are a little hit or miss, but I've found some interesting new products through them. I also like that I can mark to not receive fragrance samples each month.
The theme for August was Lighten Up. This month you were again able to pick one of your samples, go with a set box, or let Birchbox pick all of your samples for you.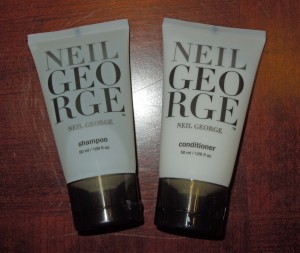 Neil George Shampoo  – 50 ml
Full size is $9
This says it's antioxidant-rich shampoo for shinier locks.
Neil George Conditioner  – 50 ml
Full size is $9
This also says it has antioxidants in it. Both of them smell nice.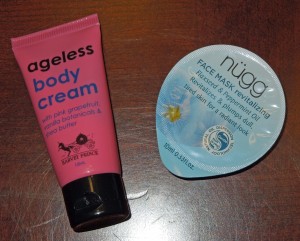 Harvey Prince Ageless Body Creme – 1.5 ml
Full size is $22
You can smell the grapefruit with this, which I like. I'm trying to finish up some other lotions before really using this though.
nugg Beauty Revitalizing Mask – 10 ml
Pack of 5 is $14.99
I really enjoy masks. This one seems a little different from the ones I normally try and says it has oils in it.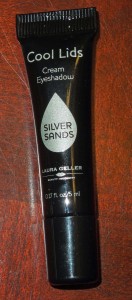 Laura Geller Beauty Cool Lids Cream Eyeshadow – 5 ml
Full size is $19
This item I was able to select. I really like the silver color and it has a nice wash of color without being too over the top silvery.
Final Thoughts: The eyeshadow that I had picked out is a really pretty color and I'm always up for trying new masks. I have a ton of shampoos, conditioners, and lotions from all of these boxes, so I'm not as excited for more of that. But they are nice sizes to try out and maybe stash in a gym bag.
What did you think of Birchbox this month? Are there any items you'd like me to do a more in depth review on?