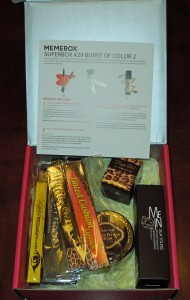 Memebox is a Korean beauty box. Instead of a traditional monthly subscription box, they create individual boxes around different themes and you can pick which ones you would like to purchase.
Cost: Boxes start at $23 plus $7 shipping, but you can purchase different bundle options too.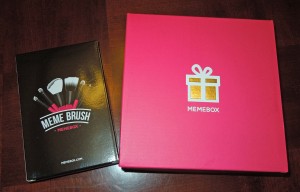 My first Memebox was a bundle of the Superbox #29 Burst of Color 2 and Meme Brush.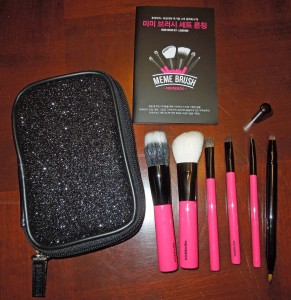 The brushes seem pretty nice. They're soft and don't seem to shed so far. We'll see after use and cleaning how they hold up. The set comes in a black case with glitter on one side. The 6 brushes are listed as (in order in my picture): (1) powder, highlighter, blusher; (2) blusher, shading, highlighter; (3) highlighter, eye shadow; (4) gel eye liner, point eye shadow; (5) eye brow, gel eye liner, concealer; and (6) lip, concealer, eye shadow – this is the double sided brush.
Each of the boxes comes with a card that tells you about the products. This is really helpful, as the product information on the containers isn't always in English.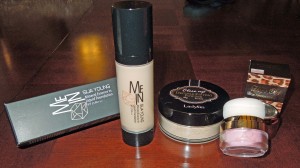 Sua Young Mein Sua Young Mineral Essence In Liquid Foundation SPF 33 – 30g (Full Size)
Full size is $34
I've used this a couple of times since getting this box. It's a lighter coverage like a BB cream, but it still evens out my skin. It's a little light for me during the summer, although I can get it to blend in. I'm sure this will be a better match in the winter.
LadyKin Close-Up Decuple Fitting Powder – 20g (Full Size)
Full size is $17
This says that it was one of 3 randomly selected shades, but I couldn't see on the packaging which one I got. This has a nice cushion in the lid for application. Again, this is a little light for me right now but will be a good color match soon, so I'll be trying this more later.
Hope Girl 3D Powder Blusher – 5g (Full Size)
Full size is $18
I received this is 03 Girly Pink. This looks like a fun blush color. The applicator is different for me – there's a puff attached to the case where the powder is dispersed through.

Hope Girl Wonder Magic Mascara – 7ml (Full Size)
Full size is $22
The brush for this mascara has a it of an hourglass shape, which is supposed to really coat your lashes. It's built as a 3-in-1 with volumizing, lengthening, and curling.
Hope Girl Tinted Cushion Lipstick – 1.1g (Full Size)
Full size is $12
The color I received was 03 Coral Pink. This has a cushion on one side to blend in the color after application. It says it has the benefits of being used as a lipstick with the lasting power of a lip tint. It's a little pinker than I normally wear on my lips but still nice, and I can't wait to see if it really is as long lasting as it says.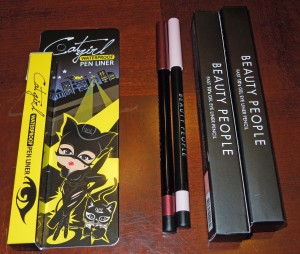 Y.E.T Catgirl Waterproof Pen Liner Black – 0.5g (Full Size)
Full size is $9
I swatched this and it drew a nice line and really did stick on my hand! I'm trying to use up another liner before really trying this one.
Beauty People 10 Seconds Auto Eye Liner Pencil – 2 sticks (Full Size)
Full size is $48 for 2
I received Diamond Burgundy and Diamond Natural Berry. I also just swatched these. They were really smooth and were both nice colors. The card says they can also be used like a pencil shadow. They also have a built in sharpener. I've not worn pink eye liner before, so I just need to experiment with these.
Final Thoughts: I really liked this Memebox and am glad this was my first one. I'm sure I'll get a lot of use out of a good number of these products. The foundation colors are all fairly light and there wasn't any way to customize those, so that would be a negative about this if you had a darker skin coloring. I'm usually in the light/medium range, with a little more towards the medium side in the summer, so these will work for me at some point during the year. They do have other options for boxes that are more skin care related, specific to eye or lip cosmetics, etc., so there are other options of boxes to choose from if you don't want to get something that would possibly have foundation in it.
What did you think of the Memebox? Are there any items you'd like me to do a more in depth review on?