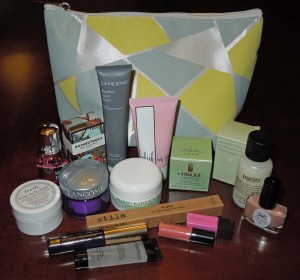 I purchased the Nordstrom Beauty Bag from HauteLook. HauteLook is a flash sale site. I saw that about every quarter they release a beauty bag full of deluxe and full size beauty products and that they go pretty fast. That sure seemed true for this one! I bought it right when it was released and saw comments that people were told it was out within a half hour.
Cost: $25 – plus $5.95 shipping.
This is my first purchase from HauteLook and I have to say that the transaction went well. I'll certainly be shopping there again!
The bag has a cool pattern with silver, grey and yellow. It's a nice size so I'm sure I'll end up using it. The bag was filled with all of the goodies.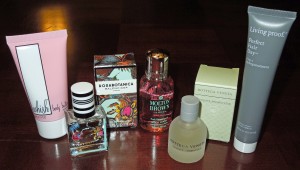 Whish Body Butter in Pomegranate – 0.75 oz
Full size is $24
This feels really nice and doesn't feel greasy. It doesn't really smell like pomegranate to me, but it's not an unpleasant scent either.
Rosabotanica Balenciaga Perfume – 0.25 oz
Full size (1 oz) is $70
I was surprised and actually liked the scent of this. However, wearing perfumes or anything heavily scented for too long gives me a headache, so this will be given to someone else. The bottle is so pretty too.
Molton Brown London Pink Pepperpod Body Wash – 1 oz
Full size is $30
This has a masculine scent to me. I usually like fruity body washes, so this isn't for me. This is another item to give away for me.
Bottega Veneta Essence Aromatique – 0.25 oz
Full size (1.6 oz) is $95
The scent of this was also nice, but again, it'll be given to someone else.
Living Proof Perfect Hair Day 5-in-1 Styling Treatment – 1 oz
Full size is $26
I've had a few other samples of Living Proof items in the past and liked them, so I'm looking forward to trying this one!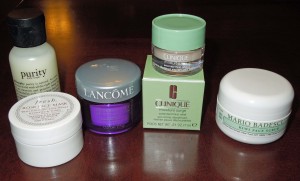 Purity 3-in-1 Cleanser for Face and Eyes – 1 oz
Full size (3 oz) is $10
I like Philosophy products, so I'm sure I'll like this one too.
Fresh Rose Face Mask – 0.68 oz
Full size is $58
I've used the Fresh Soy Face Cleanser in the past when my skin had a bad reaction to some other products and it helped wash my face and calm it down. I really like trying out new face masks and the fact that I already have used a product by them and that it has such great reviews makes me really excited to try this one out!
Lancome Renergie Lift Multi-Action Sunscreen SPF 15 – 0.5 oz
Full size is $95
This is a really nice sized sample to be able to fully try it out. Plus it has SPF in it, which is always good.
Clinique Moisture Surge Extended Thirst Relief – 0.21 oz
Full size (0.5 oz) is $12
I've received these samples before and liked them. I use a different Clinique moisturizer most days, but I do like this when my skin is extra dry.
Mario Badescu Kiwi Face Scrub – 0.5 oz
Full size is $15
I've seen a lot of good reviews for different products by this company, so I'm looking forward to actually trying something of theirs.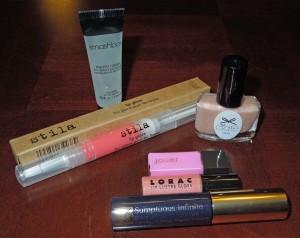 Smashbox Photo Finish Primer – 0.25 oz
Full size is $15
I had some deluxe samples of this before and like using it.
Stila Lip Glaze in Mango Berry – 0.05 oz
Full size is $22
I have one of these in another color and liked it, although it was a little stickier than I like. The color looks nice though.
Ciate Mini Nail Polish in Members Only – 0.17 oz (Full Size)
Full size is $8
I've seen this brand in a couple of places online and was interested in trying it. It's not a normal color for me, but it's a nice shimmery pale pink.
Jouer Lip Gloss in Peony – 0.08 oz
Full size is $20
This is a fun color that looks like it'll be nice to use in the summer.
LORAC Lip Lustre Gloss in Peach Lustre – 0.07 oz
Full size is $15
This is also a nice color to try out.
Estee Lauder Sumptuous Infinite Mascara – Deluxe Sample
Full size is $26
I have so many mascara samples, but it's always nice to try out another one.
Final Thoughts: There were some hits and misses with this bag, but overall I think it was a good buy at this price. I have some new products to check out and others to give away to someone else who will hopefully enjoy them.
What did you think of the HauteLook Beauty Bag? Are there any items you'd like me to do a more in depth review on?