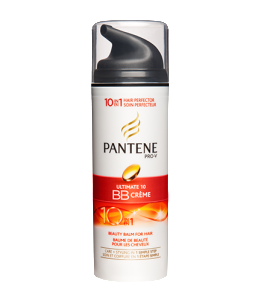 Pantene Pro-V Ultimate 10 BB Creme
Full Price: $7.99
Pantene Pro-V Ultimate 10 BB Creme is a great product that you can use on damp or dry hair. It's a BB creme for your hair instead of your skin. Like all BB cremes, it has multiple benefits, and Pantene lists the 10 benefits as:
1) Repair for Rough Hair
2) Strength Against Damage
3) Silky Softness
4) Brilliant Shine
5) Smoothing
6) Moisture
7) Frizz Control
8) Heat Protection
9) Manageability
10) Tamed Flyaways
My hair has been permed and colored, so it's gone through some damage in the past. My ends especially were super dry and the humidity at this time of year makes it extra frizzy. I've been using this on damp hair and then scrunch and go for most days. This has been amazing! My hair is softer and the curls are nicely defined. I find most anti frizz products to leave my hair greasy looking and weighed down, which this does not do.
Final Thoughts: I really love this product and have already purchased my second container of it for every day use. I like to mix up my products, but I find myself coming back to this, even compared to my salon products.
Have you used Pantene Pro-V Ultimate 10 BB Creme and if so, what did you think of it? Is there something else you love that has the same effect?