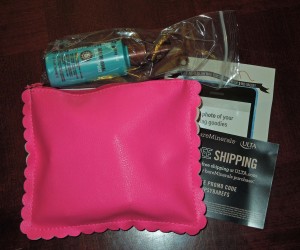 ipsy is a monthly subscription of beauty and makeup items. Each month you receive 4-5 full size or deluxe side products, as well as a makeup bag.
Cost: $10 per month – free shipping.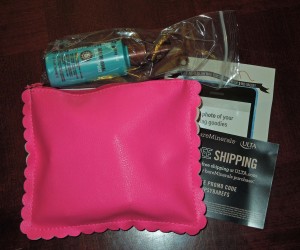 This is my second ipsy bag and this month it wouldn't even all fit in the makeup bag! This month was themed Sensationally Sunkissed. There was also a card in there for free shipping at Ulta.com with any bareMinerals purchase.
The makeup bag this month is a hot pink bag. It looks like it'll be nice to store some essentials in this summer when going out to the water.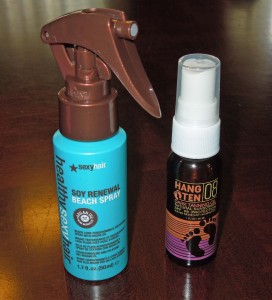 Healthy Sexy Hair Soy Renewal Beach Spray – 1.7 fl oz
Full size is $19.95
This beach spray has Argan oil in it and says it's conditioning. I tried a different spray before and it made my hair even more frizzy than normal, so I hope this won't have that same result.
Hang Ten Dark Tanning Oil SPF 08 – 1 fl oz
Full size is $11.99
This is a tanning oil with SPF 8 in it. I'm pretty fair skinned and while I don't burn a lot when I'm outdoors except at the beach, I still like to have a higher SPF to avoid any sun damage. However, I do know someone who does use tanning oil, so I'll probably end up just giving this to her.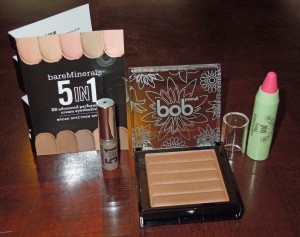 bareMinerals 5 in 1 BB Advanced Performance Cream Eyeshadow in Divine Wine- 0.03 oz
Full size is $18
I really like bareMinerals products and haven't tried any of these before. It goes on as liquid and then you have a short time to smudge it before it sets. The color is a nice neutral and doesn't seem to take much. I'll be interested to try this as part of a full look.
pop Sunkissed Bronzer in Secret Sunshine – 6.95 g (Full Size)
Full size is $10
I don't have a bronzer and have been meaning to get one, so this is perfect timing! I always thought with my skin coloring that bronzers would look pretty fake – at least when I've used some that friends have owned that was the case. This is a really nice shade for me and just gives a healthy glow.
Pixi Tinted Brilliance Balm in Pretty Pink – 1.8 g
Full size is $16
I've really been loving balms in this crayon type of packaging this summer. This one goes on smoothly and gives a little hint of a tingle to the lips. It's a nice shade of pink for the summer, without being too bright.
Final Thoughts: There were some nice gems this month and some really good sized samples. The tanning oil was a miss for me and the beach spray may be a miss, depending on how it works with my normal hair texture, but the makeup items more than made up for it this month.
What did you think of ipsy this month? Are there any items you'd like me to do a more in depth review on?