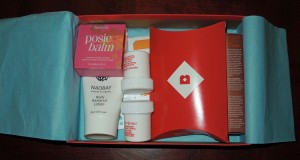 Birchbox is a monthly subscription box of a variety of samples ranging from skincare, haircare, makeup, and non-beauty items. It's usually 4-5 samples per month. They also offer a men's subscription box.
Cost: $10 per month – free shipping.
Birchbox was the first subscription box I signed up for. Some of the months are a little hit or miss, but I've found some interesting new products through them. I also like that I can mark to not receive fragrance samples each month.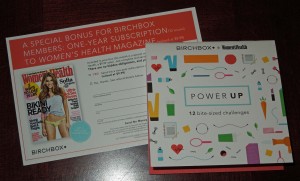 The theme for July was Power Up and was partnered with Women's Health. In addition to the samples, there was a bonus of a one year subscription to Women's Health (valued at $9.99) and a set of 12 different challenges that were a mix of health and beauty tasks. If you show that you've completed all of the tasks, you be entered for a chance to win a collection of products and a trip to NYC. I already have a subscription for Women's Health, but the card says you can submit it for a refund if you don't want the subscription, so I'll be trying that.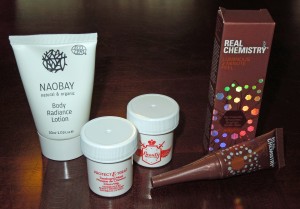 NAOBAY Body Radiance Lotion  – 1.01 fl oz
Full size is $24
This is a natural and organize lotion. It feels really nice on the skin and doesn't leave a greasy feeling or have a heavy scent. I'm looking forward to really trying this one out.
Beauty Protector Protect & Treat Mask – 2 0.5 oz containers
Full size is $25.95
This is a hair mask that says it restores strength and megashine to hair. I've had other products from this company in my boxes in the past and had mixed results with them. I have curly/frizzy hair and have liked how the products work, but the scent of some of them was strong and stuck around all day and I don't like perfumed items. This has a scent to it, but because you apply it in the shower I'm hoping that the scent won't last as long.
Real Chemistry Luminous 3-Minute Peel – 0.17 fl oz
Full size is $48
This is an acid-free peel that says it gently exfoliates for instantly softer, smoother, and brighter skin. I like that this sounds like it won't be too harsh on my skin.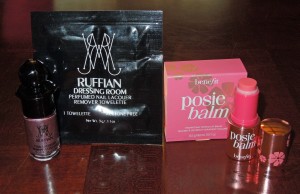 Ruffian The Rapture Collection in Ambrosia – 0.17 fl oz
Full size is $10
This item I was able to select, along with the color. It's a really pretty metallic purple. I don't have anything like this already and I really like metallic polishes.
Benefit Cosmetics Posiebalm – 0.5 g
Full size is $18
I don't think the color shows up at all on me, but this balm feels so nice on my lips and not sticky.
Bonus Item: Ruffian acetone free nail polish remover towelette
Set of 10 is $12
I've never used a nail polisher remover towelette, so this will be interesting to see if it's quicker and easier to use.
Final Thoughts: I had some really good first impressions of the products this month. Also, once I do the rebate for the Women's Health magazine, this box will end up having cost me $0.01, which is a great bargain!
What did you think of Birchbox this month? Are there any items you'd like me to do a more in depth review on?